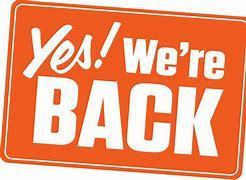 YES WE ARE!!!
Brett Bunch
Monday, August 17, 2020
Today was our back-to-school district day for staff to return and it was a great day!! Although we couldn't see the smiling faces due to our face masks you could just feel them through the masks. The morning was filled with travel and training for our amazing and dedicated staff. Yes we talked about COVID today and how we are NOT going to fear it but we will respect it and RISE ABOVE!! This is going to be a week filled with training and preparation for our awesome students to return next week. Young people we have missed for the past five months! Some will be joining us via virtual learning but they will still be live streaming into our classrooms!
IT'S A GREAT DAY TO BE A GREYHOUND!
GREYHOUND STRONG!!!