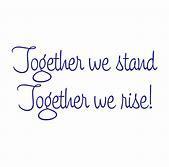 TOGETHER
Brett Bunch
Tuesday, March 17, 2020
Our mission is clear, educate, feed, and love our kids!!!
Thank you to all of the amazing people here at the Newport Special School District, Aramark, cafeteria staff, educators volunteering to hand out meals, bus drivers running their routes to feed kids, custodial and maintenance deep cleaning, IMAD helping to get meals out, and a community that cares about all of its people, young, old and anywhere in between.
Together We Stand & Together We Rise!!!!
Proud to be Greyhound Strong!!!