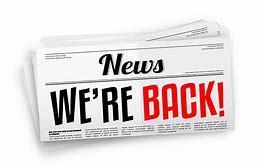 Let's Get This Show Rolling!!!
Brett Bunch
Monday, February 10, 2020
We Are Back!!! I hope everyone is recovered or recovering from the sickness that has impacted our district for the last two weeks. We may have a few still out recovering but it's time for us to "get this show rolling". Let's show that Greyhound Strong attitude today and jump right back into engagement, learning, and preparing for the future!!
Thank you, to all of the parents and guardians for helping to get our young people well again. Thanks to the spouses, parents, grandparents, neighbors, and community for helping get our staff back on their feet. It takes the entire Greyhound Country to get us through but we are making it.
Have an absolutely wonderful day and smile because it will brighten someone's day!!
Go Hounds!!!