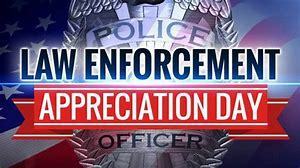 THANK YOU!!
Brett Bunch
Thursday, January 09, 2020
Today is Law Enforcement Appreciation Day!! We are fortunate to have Lt. Donnie Schultz as our School Resource Officer. If you attend functions here you are going to see Lt. Schultz and at most, if not all, away sporting events. He is dedicated to serving our students, staff, schools, and community. We appreciate you Lt. Schultz and thank you for all you do!!!
We also want to recognize the Newport Police Department and the Jackson County Sheriff's Office for all they do to protect and serve our community and county!!! Thank you!!!